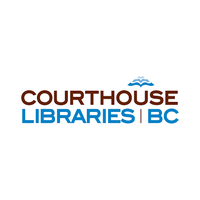 Courthouse Libraries BC launched a redeveloped website [http://www.courthouselibrary.ca/] in November 2009. Our former website was one that you had to be a librarian or long-time legal researcher to love (I say this as a librarian!). Our current site offers new features and functionality as well as a more user-friendly look and feel. If you haven't had a look at CLBC's website recently, here are five reasons why you should check it out:

1. User-friendly design
Our goal for our new website is to attract new website users from the legal community by better meeting your information needs and technology usage preferences. We followed usability guidelines in our redesign and spent a lot of time on usability testing as we planned and developed our new site. Our goal was to emulate the navigation and functionality of other websites that are frequently used by members of the legal community, so that if you know how to find your way around and place an order on a site like Amazon, you'll know how to find information and place a photocopy order on CLBC's website. Our new site is a big change from our old site, but if you are a frequent internet user we hope you'll find our new site easy to use.
2. Improved self-service
You have access to the following services online at our website:
• Ask a question
• Request copies
• Borrow a book
• Suggest a book
• Apply for a library card
• Apply for rural lawyer credit
• Submit feedback
• Renew your books
One of the biggest shortcomings of our old website was the time it took to place orders. You had to enter all your contact info each time you placed an order. Now we've introduced (free) website accounts so you can save and update your contact information - if you have a website account, placing an order is as easy as telling us what you want and when you want it. If you've ordered anything online before, our order process should look familiar. You can also view your order history on the website under My Account. Even if you don't need to order materials from Courthouse Libraries BC, if you create a website account you can save your website searches to re-run them periodically as a way to keep yourself up to date on legal issues. Newly added items will appear in your saved search when you re-run it.
3. Online content focused on the BC legal community
Until recently we tried to meet the information needs of both the BC legal community and general public on the same website. Now we run separate sites for each audience to offer more targeted, focused content that is a better fit for each group. Our new CLBC site focuses on the online information needs of the BC legal community and Clicklaw provides legal
information, education and help from 24 contributor organizations aimed at the BC public. A lot of the changes we've made to our website were done with small firm and solo
practitioners in mind. For example, we now offer Practice Portals on topics that small firms want to stay current on such as Family Law and Personal Injury.
4. Tools for staying up to date
A key feature of our new site is our collection of RSS feeds to help you stay up to date with legal topics. Our New & Notable current awareness blog covers developments in BC and federal legislation, court rules, judicial appointments, notable cases, recent reports and articles & websites of interest to legal researchers, and new books at the library. Our library blog The Stream offers in-depth posts on legal research tips and tricks, new tools, news about us, and we've recently introduced guest posts from bloggers in the BC legal community. Both blogs are displayed on our website homepage. Mindful of our website users' information overload concerns, we also offer RSS feeds of New & Notable by practice area: civil litigation, family law, personal injury, wills & estates, and practice management & technology. This gives you the option of following only the practice areas you are interested in rather than subscribing to our fairly busy New & Notable comprehensive feed. You can view these practice area feeds from their associated practice portal on our website or subscribe to the RSS feed so you can monitor the news from your own feed reader, internet browser or email (assuming) the tools you use support RSS. If you're using an old website browser such as Internet Explorer 6 you can't subscribe to RSS feeds - I'd urge you to upgrade to a more recent browser to take advantage of our website's full functionality). We also have a Courthouse Libraries BC Facebook page: if you "Like" our page, items from our New & Notable and The Stream feeds will start to appear your Facebook News Feed.
5. Tools for finding what you need
a. Universal search tool
Use our universal search tool to simultaneously search our website resources (such as our Unreported Decisions, BC Legal Literature Index, Asked & Answered knowledgebase, and legal links collection) and library catalogue. Results are relevancy ranked and you can order materials from us by selecting items from your search results: for example, unreported decisions not found on CanLII; articles from The Verdict, The Advocate and other legal publications; and excerpts from books. We created this universal homepage search tool to help meet the needs of website users who prefer a quick and easy Googlelike search experience to a library catalogue. We also offer more advance search options on our Search page.
b. Improved library catalogue and mobile interface
We continue to offer our library catalogue online and have introduced an improved interface with a visual discovery tool and more options to refine your search with the click of a mouse. We also offer a mobile library catalogue interface so you can look up a book on your iPhone or BlackBerry. Our website has been a fantastically interesting project to work on and it is very satisfying to have launched the new site. However, the launch is only the beginning – the new site will always be a work in progress and we look forward to developing the site further to meet changing user needs. Don't hesitate to contact me, whether you'd like help using our RSS feeds or if you have ideas on how we can improve our website to help BC paralegals find and use legal information online.
------
Mandy Ostick
Director, Digital Innovation
Courthouse Libraries BC July 2010
(Reprint from BCPA Paralegal Press Summer/Fall 2010)

---