LOCATION: KELOWNA PROFESSIONAL DEVELOPMENT COURSE
Note: This specific course is an open invite to all paralegals, lawyers and support staff. As we are live in Kelowna and we have space for 80 people, we have decided to invite your colleagues to this event.
Please see registration details below.
Meeting the Definition of "Serious Impairment" with a Discussion on Expert Limitations
AGENDA:
the prescribed criteria to establish "serious impairment" in BC

Evidence required

Medical evidence
Other evidence

Accommodations;
Training & Education;
Activities of Daily Living

Expert Limitations

Rule 11-8
Joint Experts
Considerations for Trial

Court Jurisdiction

CRT
SCBC
We are honored to have our speaker for this Course.
Robert O. Levin, Partner
Robert O. Levin Law Corporation

Date: Tuesday, October 1, 2019
Time: 12:00 p.m. - 1:00 p.m.
Location: Kelowna Downtown Library, 1380 Ellis St, Kelowna, BC V1Y 2A2
*Light lunch and refreshments will be provided.
Webcast for this course is not available. However, we are recording this event and the entire course will be available on our website upon conclusion of this course. All members of the BC Paralegal Association will be able to access this course once it is posted on our website.
This is a free event for our BCPA members and their colleagues, lawyers, support staff.
Registration is mandatory.
REGISTRATION: Please email info@bcparalegalassociation.com to reserve a seat. In your email subject line, please type "Kelowna PDC" and provide your name, name of your law firm or place of employment, and contact information. Please also include the names of any other colleague / lawyer who will be attending this free event.
*All those outside of Kelowna area wishing to access this course will be able to do so once the course is uploaded to our website at some time after the event.
* Corporate members, service providers are also welcome to attend this event upon registering for this course as noted.
*Paralegal members of the BCPA will be given first priority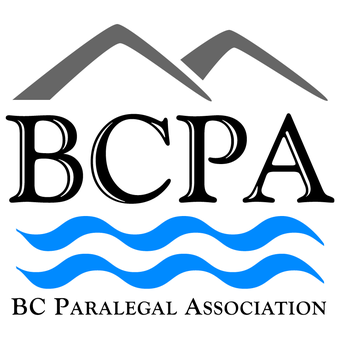 Kelowna Live Event, Kelowna Downtown Library